CANopenIA System on Chip (SoC) Solutions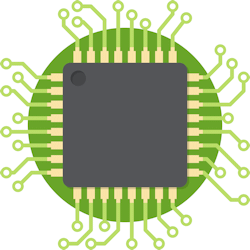 CANopenIA SoC solutions either provide stand-alone access or they implement the co-processor mode used in combination with a host processor.
The CANopenIA-M0 can directly be used as a CANopen CiA 401 Generic I/O compatible input and output node for digital and analog data. The chip supports a total of up to 28 digital inputs or outputs grouped into 4 bit ports. One port can also be configured for 4 analog inputs using an on-chip ADC with 10bit resolution. One port each can be configured to support higher resolution (12bit), external analog components connected via SPI. One port can alternatively be used for remote access, providing the co-processor mode via a TTL-UART.
Co-processor solutions implementing the CANopen IA remote access protocol are available as chip binaries where regular microcontrollers are turned into CANopenIA chips by programming them with CANopenIA firmware.