CANopenIA Setup and Configuration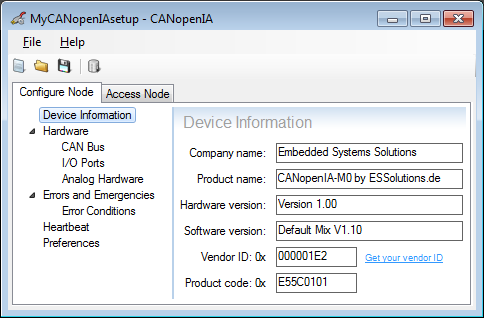 Configurable CANopenIA solutions support the binary EDS setup file. Setups can easily be applied to CANopenIA systems, for example at the end of a production line. The setup includes all object dictionaries supported by the device as well as the PDOs (Process Data Objects) and their configuration (linking and mapping).
The setup files are generated by the CANopen Architect editor or a dedicated CANopenIA setup utility. CANopen EDS (Electronic Data Sheet) are generated along with the configuration. Alternatively, existing EDS files can be used as the base for a new configuration.
The Setup File can directly be transferred via CANopen communication to any CANopenIA device. Standard CANopen configuration tools such as CANopen Magic can be used to load the setup file into the CANopenIA device. On a technical level, the file is loaded into a CANopenIA device by writing it to the Object Dictionary entry [1F50h,2]. On CANopenIA devices this Object Dictionary entry is reserved for reading or writing the setup file.
Hardware settings: CAN bitrate and Node ID
The most essential settings of any CANopen node are the CAN bitrate and the node ID used by the device. Besides Configuration through the setup file, CANopenIA also supports the Layer Setting Services (LSS) including the latest fast scan methods invented by Embedded Systems Academy. These can be used to detect devices without a node ID and assign them one automatically.
Program Download: CANopenIA Setup Tool